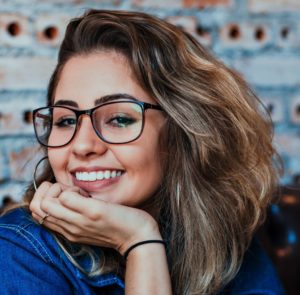 Keep Your Teeth Clean With A Routine
Want cleaner teeth, a nicer smile, and less time at the dentist?
We have one word for you—routine!
Routines are the structure of a healthy life. Conventional wisdom holds that it takes 21 days to form a new habit, but in reality, it can take longer. A recent study shows the average time needed to form a new habit is 66 days!
When it comes to your oral health, though, forming a routine is worth the time investment. Brushing keeps your teeth clean and your breath fresh. People who floss regularly can reduce both gum disease and plaque. Plus, the benefits of flossing regularly are well documented.
Have a smile you can be proud of. Develop a good oral hygiene routine at home, which sets the basis for a lifetime of healthy teeth. For extra assistance, talk to your dentist about advanced technology to help give you a great smile. Teeth whitening treatments can brighten you up, while Invisalign® can correct overbites, underbites, and crooked teeth.
Your oral care routine doesn't have to be complicated or difficult. With four steps and a few minutes every day, you can have a winning smile to last you a lifetime!
Brushing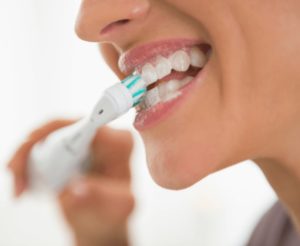 If you've bought a new toothbrush lately, you've probably seen how many options there are. Toothbrushes come in every style and colour, many boasting special features.
So which one is the best?
The answer is clear, as far as research goes: an electric toothbrush. Because they're powerful and easy to use, an electric toothbrush can reduce gum disease and plaque. They can also be easier to use for people who have trouble using a regular toothbrush for the recommended 2 minutes, such as those with arthritis.
If you go with a manual toothbrush, dentists recommend soft bristles. Other than that, choose one that's comfortable and easy for you to use. Brush for two minutes twice a day for a squeaky-clean mouth!
Interdental Cleaning
Or as you might call it, flossing! But flossing is only one way to clean between your teeth.
Using regular floss works fine for many people. For others, single-use dental flossers are more comfortable and easier on the fingers. Floss at least once a day, cleaning between each of your teeth. Some people floss after their last meal of the day, while others prefer first thing in the morning. 
Among patients, interest is growing in water flossers (sometimes called by the brand name, Waterpik®). Much like electric toothbrushes, water flossers can feel easier to use. They're also gentler on the gums, resulting in less sensitivity and bleeding. Your dentist can explain the benefits of water flossing, and may be able to recommend a brand if water flossing is right for you.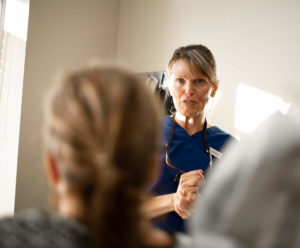 Regular Appointments
The battle against plaque, gingivitis, and cavities can feel like a struggle. But you've got an ally on your side: your professional dental team.
Everyone in your dentist's office works together to perfect your smile and keep your mouth as healthy as it can be. Your hygienist will clean and strengthen your teeth during your appointment, but can also answer questions on brushing and flossing technique, how your nutrition affects your teeth, and more. Bring up your oral health concerns to your hygienist to get your team working for you.
Your dentist will do a visual exam of your teeth and recommend treatment options. If you have cavities or other dental issues, you might want to talk to your dentist about bridges and crowns as well as filling options. Your dentist can explain procedures such as root canals or extractions, giving you peace of mind.
Your dentist can also recommend technologies to help improve your smile. For a whiter smile, your dentist might suggest teeth whitening or veneers. Many dentists are also certified Botox® practitioners. To correct a crooked smile, your dentist can discuss many options, including convenient and comfortable Invisalign®.
---
Great oral health is an essential part of great whole-body health. Your team at Sunnyside Dental is ready to help you create a dental care routine that will become second nature. That's a great reason to smile! 
Contact the dental health professionals at Kelowna's Sunnyside Dental to book regular checkups, or for a consultation on any other dental procedures.