Smile for the selfie!
Those little computers we hold in our hands are so powerful. We use them to communicate, to work, to play, and to create memories. And now, we can use them to help see the future.
With the new Invisalign® SmileView app, you can see just how brightly your smile can shine!
Snap a photo (yes, you need to show your teeth) and give it a try. It could be the most satisfying headshot you'll ever take.
Once you've previewed your beautifully aligned teeth, you can start to explore the myriad options Invisalign® now offers.
Kelowna's Sunnyside dentists are Gold-Tier Invisalign® providers, and can help guide you to the treatment that will work best for you.
Be a Part of the Innovation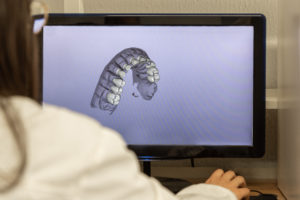 The world leader in orthodontic aligners, Invisalign® holds more than 450 patents and is continually pioneering new technologies to make strong, healthy smiles available to everyone.
From your initial iTero digital scan to your ClinCheck algorithmic treatment plan to your final 3-d printed SmartTrack alignment tray, you'll be among the front-runners of modern oral health.
At Sunnyside, most of our patients benefit from a full Invisalign® treatment. This usually takes 12-18 months (still significantly less time than traditional braces) and may utilize the ingenious SmartForce attachments to address complex issues with precision. Trays are changed every two weeks, with each new set micro-adjusted to encourage the next phase of movement. As with all Invisalign® treatment, the trays need to be worn for 22 hours a day for the best results, but can be removed to eat and brush (and floss, of course!).
Recent introductions to the Invisalign® family can speed up treatment for some patients. Some ClinCheck plans allow for more aggressive tray exchanges. In these cases, the clear aligners are replaced every week, adjusting the bite a little more with each update. Other patients have found success with the Propel VPro5, a tool that is used for 5 minutes a day, vibrating the gums and tooth beds to stimulate movement at a more rapid pace.
Some patients have only minor concerns and can take advantage of Invisalign's quicker versions. Perhaps they had braces as teenagers, and over time, their teeth have shifted slightly. Maybe only one or two teeth are out of place. On occasion, patients who need more traditional restorative dental work, such as crowns or bridges, might need some preemptive orthodontic treatment beforehand to ensure a correct fit. We find that many of these patients are strong candidates for the Invisalign® i7 program. This minimally invasive, short-term option can improve alignment in as little as 3 months.
Younger mouths can also see improvement with clear aligners. 21st-century orthodontia recognized the benefits of early intervention. Invisalign® First targets the growing mouths of kids ages 6-10 (yes! It starts that early now!), providing tooth, palate and mandibular manipulation at an earlier stage of development, helping to avoid more severe intervention (like surgery) later down the line. The popular Invisalign® Teen focuses on tooth movement while respecting adolescent vanity. This treatment is faster than traditional metal braces, and the nearly invisible aligners, removable for all of the important teenage rites-of-passage, don't get in the way of looking cool. With special attributes like compliance indicators, parents can be sure their kids are wearing the aligners as often as required to ensure success.
---
With cutting-edge research and trailblazing technology, Invisalign® offers a solution for almost every patient. The team at Sunnyside Dental is proud to be a part of this oral healthcare revolution.
We want your smile to be beautiful and genuine, today, and into the future! Contact us for a free Invisalign® assessment.