Enjoy your smile, during and after treatment…
Safe, non-invasive, and barely noticeable, it is no wonder Invisalign has become the industry leader for giving you the smile you deserve.
Kelowna Invisalign® Dentist
Invisalign® are clear trays that snap onto your teeth to slowly correct alignment over time. Sunnyside Dental specializes in Invisalign treatments, and has been providing countless patients with new smiles for many years. During the Invisalign treatment, you will visit our office every 6-8 weeks and keep the Invisalign aligners on for 18-24 months, depending on your personal dental treatment plan. The results from our Invisalign treatments are outstanding and are proven to make you love your smile.
We have paired our Invisalign treatment with the VPro5, to be used for 5 minutes a day. This orthodontic device creates high-frequency vibrations ensuring the tray aligners are fully engaged. This will ultimately decrease your treatment time by up to 50%.
Each Invisalign treatment includes a complimentary teeth-whitening treatment, for a perfectly finished smile. Book your free Invisalign consultation today!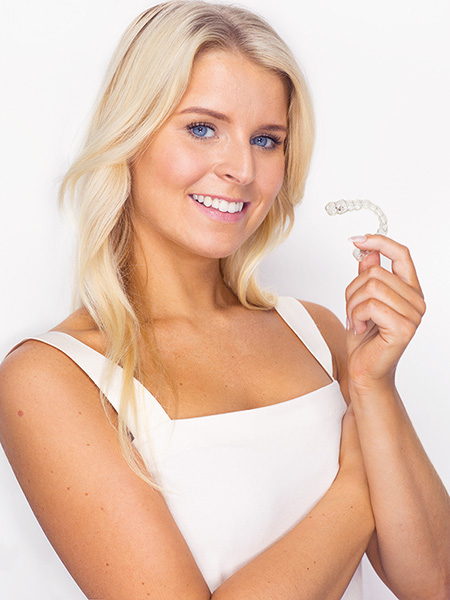 Invisalign® for everyone – teens and adults:
This video explains the Invisalign® Teen solution:
How To Get Started With Invisalign®
We start with an informative 30-minute consultation in our office with our Invisalign-certified dentists, to answer all of your questions and explain the process. Once you are prepared to proceed, we begin by taking accurate digital measurements and digital photos of your current smile.
In most cases, we are able to use a 3d digital scanner –no messy impression trays required! Then, the design and manufacture of your custom-made aligners can begin.
The Invisalign® Process
Once your custom aligners are ready, we provide you with a few sets, which you wear for 2 to 3 weeks at a time. After a few simple visits to your dentist to gradually "upgrade" your aligners, you will have a straighter smile.
One of the best features of Invisalign is that you can remove the aligners for eating and drinking, which avoids the hassle and cleaning issues of traditional "train track" braces.
Unnoticeable Alignment Correction
And because the aligners are clear, people may not even notice that you're wearing them. See how one of our patients just loves her Invisalign treatment: