The Future is Now at Sunnyside Dental
Sunnyside Dental knows how important personal care is, and one of the most critical aspects of good health is your oral care. We're proud to offer residents of the Okanagan the future of dental care with treatments that take advantage of modern technology. By using the latest dental procedures and techniques, we'll have you grinning ear to ear.
Kelowna's Invisalign Professionals
Invisalign leads the way in orthodontic aligners and is continuously developing new technologies to make strong, healthy smiles available for everyone. As an Invisalign Gold Tier practitioner, Dr. Jaana is one of the most skilled dental professionals in the Okanagan. Along with her staff, Dr. Jaana continually updates her knowledge on different Invisalign systems and the best application of Invisalign technology to meet your specific dental health goal.
Dr. Jaana has done more Invisalign® treatments in the Okanagan than any other female dentists, and therefore has extensive experience applying the full range of treatment options available. It's never too late to have beautiful teeth! Sunnyside Dental and Invisalign can help patients of any age flash a brighter, healthier smile.
Contact Sunnyside Dental today to book a complimentary Invisalign consultation and learn how the treatment can improve your smile
Sunnyside Goes Fully
Digital with 3D Scanning
Sunnyside Dental is excited to offer fully digital impressions, x-rays, and photos taken during your appointment which will be used for analyzing and designing your unique oral treatments. Instead of the old dentistry method of using goopy molds and error prone impression trays, 3D scans are used to get the most accurate reading of your oral issues. The 3D scanning process is much faster and easier for both you and your dentist, and the end results are higher-quality and better-fitting aligners made perfectly for you.
Introducing the VPro5
When you get your custom set of Invisalign® clear aligners, you want the best fit possible for maximum comfort. In addition to our 3D modeling, we make use of state-of-the-art VPro5 technology. This quick and painless treatment stimulates your teeth with high-frequency vibrations that ensure your aligners fully engage. With these simple sessions, we can reduce the duration of your treatment time by up to fifty percent.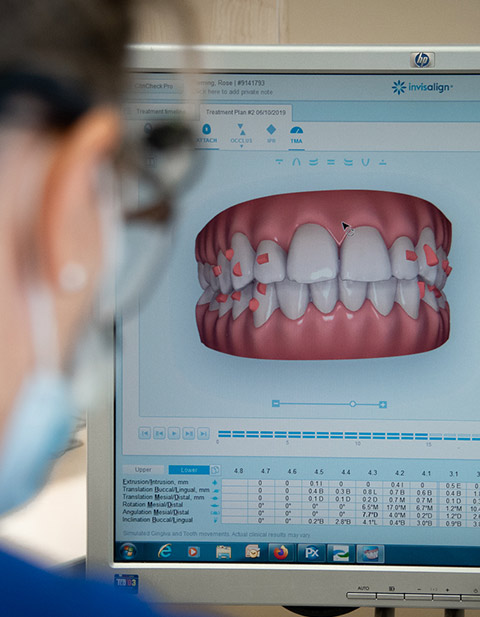 Shine Bright with Cosmetic Dentistry Treatments
Take your smile to the next level with Dr. Jaana's cosmetic and supplemental dentistry treatments. Sunnyside is proud to offer its patients access to a wide selection of cutting edge cosmetic procedures such as dental veneers, teeth whitening, Botox, and custom dental appliances used to correct or alleviate sleep apnea and snoring. These non-invasive procedures are done with expertise and ease by Sunnyside's best dentists and oral health experts, and will have your confidence to smile soaring in no time.
The Iveri Whitening System
If you've ever had teeth-whitening treatments in the past, you might be familiar with biting down on a sticky solution to make an impression of your teeth, then wearing the molds filled with whitening gel at home. With the Iveri Whitening System, we make the process simpler and easier.
Iveri allows us to provide you with short in-office treatments that provide dramatic whitening results. Simple dual-arch trays can be taken home and eliminate the need for custom molds, making it convenient for you to maintain your brilliant smile. Red and blue LED technology accelerates the whitening process without uncomfortable heat, leaving you relaxed and radiant!
---
Dr. Jaana and her team at Sunnyside Dental work hard to bring you the latest in dentistry and compassionate care.
To achieve your perfect smile, book your virtual Invisalign consultation online. Discuss our full range of dental services or book an in-person appointment at (250) 764-7794. We're happy to discuss how we can take care of you and your oral health needs with cutting edge technology.