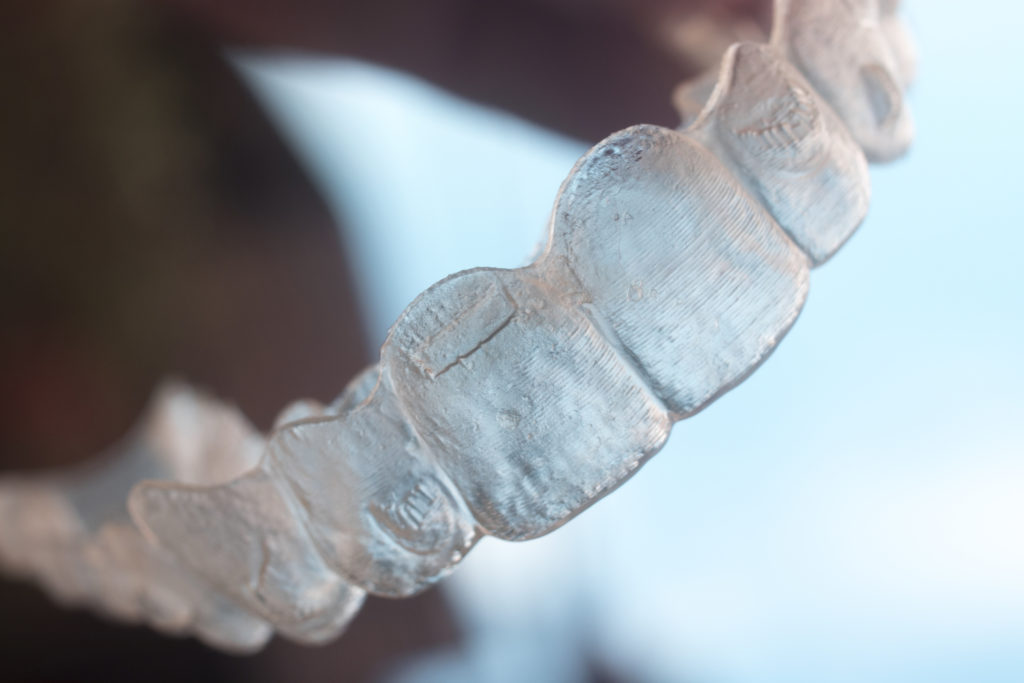 Dental care can be overwhelming. There are so many issues to consider. Do you need to adjust your bite? Are you trying to prevent potential issues? Finding a lot of reasons to smile (and wish your smile was more picturesque)?
At Sunnyside, we want to help make your dental health easy to maintain!
We seek out the most advanced procedures and apparatuses to ensure that your pearly whites stay strong and beautiful.
We've chosen to work with Invisalign clear aligners, due to their numerous benefits (for all sorts of oral concerns). Our dentists are not only Gold-tier certified Invisalign practitioners but we're also leaders in providing this treatment throughout Kelowna.
We're often asked why we recommend these particular clear aligners.
Here are the top 5 reasons why our patients choose Invisalign to straighten their teeth.
---
1. It's not noticeable (You're wearing what?)
Most of our Invisalign patients are adults whose teeth have shifted as they've aged, or older teenagers getting their first orthodontic treatments.
Traditional braces are very obvious. Many of our patients work in environments that don't really support the look, limitations, and effort that old-fashioned brackets and wires necessitate.
If you need a discrete, effective orthodontic procedure, Invisalign is the right choice.
2. It's totally customized (Made for you, alone)
Your smile is all your own! Want it to be straighter? Treatment is not one-size-fits-all, and your aligners shouldn't be, either.
Invisalign utilizes cutting-edge digital technology to create a precise 3D map of your teeth, and then sophisticated algorithms to help your dentist design a personalized treatment plan. You'll have a schedule that indicates when you should move to your next set of trays, and periodic office visits, where our dentists will assess your progress and make any necessary adjustments.
The results will make you want to show off your straight, beautiful smile!
3. It's removable (Caramel apples are okay)
Keep eating your favourite foods!
One of the biggest complaints patients have about traditional braces is that they restrict them from enjoying certain foods. With Invisalign, you'll remove your trays to eat, brush, and floss. (Okay.
Also for the occasional selfie. But make sure to pop them back in right away!) Bubble gum. Crisp, ripe pears. Bagels. Corn on the cob.
Yes!
With clear aligners, you don't have to worry about breaking off a bracket or pulling off a band. Enjoy your meal, brush and floss as you ordinarily would, then put your trays back in. As long as you're wearing them 22 hours a day, you'll see positive results.
4. It can take less time than traditional braces (It's over, already?)
Another advantage is that Invisalign's highly-customized, continuous pressure technology means that total treatment time is often shorter than it would be for traditional braces.
Additionally, we often recommend that our patients use a device called the Propel VPro5 (yes, it's a bit of a mouthful…) to accelerate the effects of each tray. Applied for 5 minutes a day, this accessory uses a steadily-increasing series of vibrations to ensure your aligners are properly placed and doing their job. It's like a gentle massage for your mouth! The VPro5 encourages more effective movement of your teeth, and can help you move through your trays at a more rapid pace.
5. It's easy to maintain (You can do this!)
Traditional metal and ceramic braces are obtrusive! They stick out from your tooth surface, and have protruding wires and sharp edges that can irritate the inside of your mouth. Patients are constantly applying wax or changing bands to prevent chafing. Similarly, maintaining good oral health with braces is time-consuming and difficult to keep up – many patients find it tough to combat plaque and gum issues, which can lead to gum disease or tooth decay down the line.
But Invisalign is a breeze to use and to care for!
Made from a thin plastic and customized to your bite, these clear aligners are comfortable, easy to wear, and don't have any poking bits to cause pain. They work with gentle pressure –no glues, bands, or abrasives to damage your teeth.
Because they're removable when necessary, keeping them clean is as simple as brushing and flossing. Also, they sit flush and nearly seamless against your teeth, which means they won't affect your speech patterns or interrupt your daily life.
Invisalign makes it easy to be diligent.
---
Inconspicuous aligners. Cutting edge technology. Reduced treatment time. Minimal discomfort. Removable and easy to wear.
The results are clear. Invisalign is a great way to straighten your teeth!
Contact the Invisalign experts at Sunnyside Dental to find out if it's right for you.