Smile proudly as you pose for all of those photos this holiday season!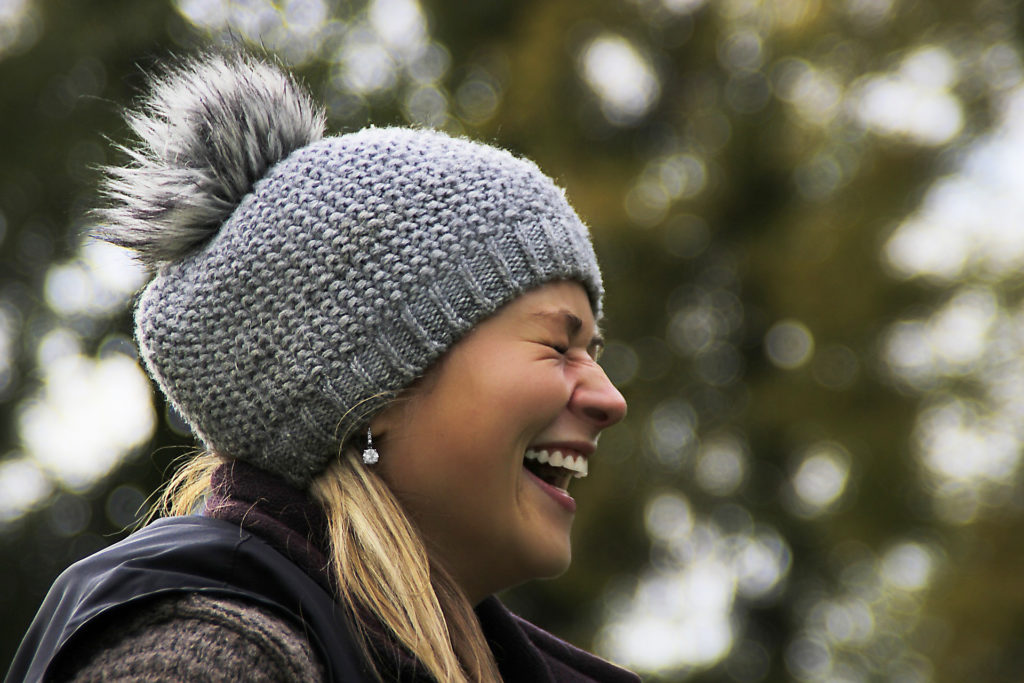 At Kelowna's Sunnyside Dental, we can help you achieve the beautiful teeth you've been dreaming of.
Whether you choose our tooth whitening program or prefer a set of pristine veneers, a sparkling smile is easy and affordable.
---
To Whiten or Not to Whiten?
As a cosmetic dentistry procedure, there are several reasons why tooth whitening is appealing. Patients of all ages inquire about whitening to correct discolourations, yellowing, or staining. Unlike over-the-counter products, professional whitening treatments are safe for enamel and gums. First we apply a gel bleaching agent to your teeth. Then your tooth surface absorbs the gel and whitens the interior part of the tooth (the dentin) without harming the tooth or existing dental work. Finally the lighter internal colour reflects through the enamel. Then you've got a brighter smile!
Tooth whitening is proven, safe, and effective. So why wouldn't you just go for it? We've learned that patients don't like coming in once to get tooth molds, then again to apply the gel. In addition, our patients don't want to wear trays every night for weeks. The team here at Sunnyside appreciates that you have a busy life! That's why we employ treatment options that are fast and effective, without sacrificing quality.
We chose the dentist-supervised Iveri Whitening System for our office. This is a 20-minute in-office procedure! Specially-formulated bleaching materials, universal-fit trays and a cutting-edge light-curation system set Iveri apart from the crowd. Because the entire procedure is so quick, it can be added to any dental cleaning (always recommended, so that the whitening ingredients can more effectively reach the tooth surface), and can minimize your time in the chair. Typically altering tooth brightness by 5-10 shades (individual results may vary, of course), our patients are thrilled with the results!
Then Why Veneer Your Smile?
Tooth whitening is easy and inexpensive, and works well for most people. However, it's not always the best option. Some tooth discolourations might be too dramatic to be rectified with a whitening procedure. Patients with extremely sensitive or damaged teeth might not be candidates for the full range of treatment. Also, whitening typically lasts up to 12 months and requires periodic maintenance. Some patients want to resolve their cosmetic dentistry concerns once and for all. In these cases, custom porcelain veneers can be an excellent solution.
Dental veneers can also correct imperfections that whitening can't, such as misaligned, disproportionately-sized or broken teeth. This treatment option also corrects small gaps and excessive wear .
How does it work? We custom design veneers for each tooth using 3D imaging and a visual colour-match. Then a professional lab creates your veneers. Each veneer is made of an ultra-thin layer of porcelain composite material and affixed to the tooth with safe, strong bonding agents. They provide a durable external surface that perfectly imitates the pearlescent and translucent qualities of real teeth. Veneers also have an impressive longevity. Designed to last 5-10 years (or more), porcelain is impermeable, and therefore resistant to the stains and yellowing of natural enamel.
A skilled professional must apply veneers. Kelowna patients turn to Sunnyside dentists for veneers because of our doctors' experience and attention to cosmetic detail. Our patients are always impressed with the way their smiles are enhanced by the realistic, beautiful and long-lasting veneers!
---
There are many advantages to these simple cosmetic procedures. As with any dental treatment, maintaining good oral health is essential. At Sunnyside Dental, we're proud to be able to help our patients achieve the beautiful, confident and genuine smiles that tooth whitening and veneers can provide!
Let us give you something to smile about. Contact our office to learn if either of these services are right for you. And get ready to say "Cheese!"